0
Thoughts from A-Day
Posted by Staff , 16 April 2012 · 241 views
Kiehl Frazier
Jay Prosch
Onterio McCalebb
Cody Parkey
Patrick Miller
Mike Blakely
Corey Grant
Any reason to return to Auburn is always a great one. The weather was gorgeous and it was great to share it with the AUFAMILY.
A-Day is for the fans and we should never read too much into the scrimmage, good or bad.
Here are some thoughts from the scrimmage…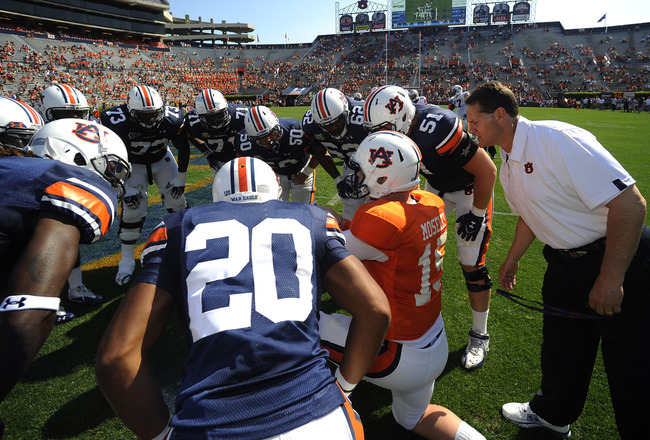 Todd Van Emst photo
I'm more of an offensive guy so the majority of my thoughts will be geared towards the offensive side of the football.
Kiehl Frazier has had a great spring and polished it off with a very solid A-Day performance. Given the opportunity to operate the "complete" offense rather than just a situational role has to be a major blessing for the true sophomore. He has worked hard to continue his growth not just physically but mentally. The transformation from 2011 is simply amazing, when you consider he still hasn't reached the ceiling of his full potential. He will tell you himself that he has plenty to learn and to improve but it's going to be an exciting time to watch it happen. Despite the defense having only to touch him to tackle him, Frazier still managed several good runs during the scrimmage. He will be a more dangerous and compelling runner with defenses having to defend him operating the "entire" offense in 2012.


Jay Prosch will easily become a fan favorite, when he starts lighting folks up on Saturday.


I really loved the motion and shifts in Loeffler's offense. Reminded me of the Borges offense in 2004 but with even more moving parts before the snap. I love to see an offense that can overload the point of attack or create isolation for a playmaker in open space.


The zone-read counter play is going to deliver many impact plays in 2012, especially if Kiehl Frazier is pulling the trigger. The Florida Gators produced many big runs from this play with Tebow at quarterback. Auburn has the running backs to make this play very explosive.


Really enjoyed watching the TE's and RB's utilized in the short passing game. It might not appear to be much on face value but it forces the defense to cover everything, which means a higher probability for something to be missed. Mark this down now… Onterio McCalebb will break a big pass play this upcoming season, simply because he was left uncovered, releasing out of the backfield.


Hope Cody Parkey gets well soon.


Auburn's defensive ends could be in for a very big 2012 season.


Seeing Patrick Miller in uniform reminds me of the some of the tall, lean and mean linemen under Pat Dye.


Watching the game live, tackling looked fairly solid except for Mike Blakely's 25-yard TD run. Speaking of Blakely, he really has great lateral movement, which is big, when it comes to counter and stretch plays. If he can prove to be a consistent runner in practice, he could be something special down the road.


I hope Corey Grant is given a scholarship soon. That young man has really transformed physically in the last year and I like how he tries to get north & south as soon as possible. Tre Mason has the same ability.
I can't wait to have the time to watch the replay of the game, to focus on the defense.
War Eagle to
Pat, Bo
and
Cam
.
War Eagle!